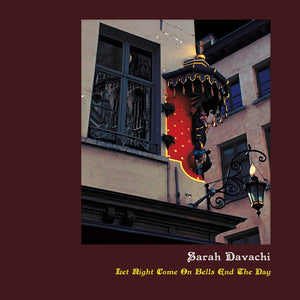 Recital
Sarah Davachi - Let Night Come On Bells End The Day LP
Regular price
€23.99
€0.00
Sarah Davachi
's trajectory has been unorthodox. Hailing from Calgary, Alberta, which, if you've never been there, doesn't really scream "Avant-Garde" (Calgary is the rodeo capital of the world).
From a young age, Sarah was a driven pianist (and figure-skater, although that's a story for a different time). It is important and interesting that she chose to study esoteric music; as Sarah could have easily been a cowgirl or a concert pianist had her ingrained love of synthesis and sonic phenomenology not taken the wheel.
Sarah is a considered person. I find few people that have the diligence and resolve to
take their time
with music… especially in a live context.
I respect that about her.
The first time I saw Sarah perform, I presumptuously told her that her music reminded me of my favorite
Mirror
albums (the exceptional project of Andrew Chalk and Christoph Heemann).
Sarah was not familiar with Mirror, so the compliment was initially lost on her.
Years back I was in the same situation when a review compared my music to Andrew Chalk, who was unknown to me at the time.
So I felt a kinship in our magnetic drift towards unspoken and clustered beauty.
Let Night Come On Bells End The Day follows the release of her "sound-wheel" LP All My Circles Run, which examines the isolation of different instruments.  Let Night Come On…, recorded mainly with a Mellotron and electronic organ, feels like a return to the nest.  Burrowed in the studio, Davachi was the only performer on this album.  She both splays her compositional architecture and re-contextualizes the essence of her early output.  She chiseled careful and shadowed hymns; anchors of emotion.

Two pillars of this album are "Mordents", which to my ears drops hints of her love for Progressive rock music – and "Buhrstone," comparable to a sombre funeral march of piano and flutes. These two examine punctuations of early music, gently plucking melodies and movements.  The three other compositions are tonal works, blowing slow jets of lapping harmonics.

Writing this description now, I find it hard to separate "At Hand" from filmmaker Paul Clipson, who made a melancholic film for this piece of Sarah's.  A fitting title for Sarah and Paul's relationship – frequently working in orbit of each other, meticulous and tactile.  I cherish this track as a memory of Paul.

This is a lovely album to fill an evening living room with. A blanket, a cup of wine, a dim bulb, a wide window.

Tracklist

A1. Garlands – 2:54
A2. Mordents – 11:10
A3. At Hand – 6:00
B1. Buhrstone – 8:16
B2. Hours in the Evening – 13:00


---
You might also like