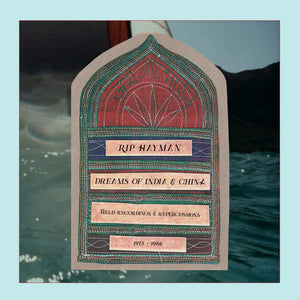 Recital
Rip Hayman – Dreams of India & China LP
Regular price
€25.99
€0.00
Dreams of India & China is the first retrospective LP of artist and sailor, Rip Hayman. Recorded from 1975-1986, the two side-long works were collaged from a dozen hours of tape recordings (which laid dormant for over 30 years). It ebbs as the tides; pulsing from one location to the next in a faint stupor, Dreams turns to be an autobiographical sound map.
Audio capsules of Hayman's installation performances, private experiments, and every ethnographic voyage in between are charted. Outdoor recordings canopy over indoor recordings, thatching surreality. Tonal quilts lap over "Dreamwaves" on the first side: an all-night sleep concert hosted by Rip as the sandman. Whispers of recounted dreams, birds and trees, organ waves. The second side traverses more saturated memories: bicycle spokes ripping against half-speed piano, bleeding cymbal dances over saxophone gusts, the tumbling of Rip's body affixed with bells and metal.
Hayman was a collaborator in New Wilderness Foundation, Ear Magazine, and The Land (a parcel in upstate New York to where John Cage, John Lennon, David Tudor, etc. would escape the city in the 1970s). He is the owner of the oldest bar in NYC, The Ear Inn. Focusing on nautical inventions and intentions these days, Rip has veered away from composition; hopefully that will change. For now, let us enjoy the sea-faring sound journeys of his past. Dreams of India & China charters a beautiful confusion – come aboard and push off into his waters.
-Sean McCann, February 2019
Limited LP Edition of 500
12-page color booklet with essays and photographs


---
You might also like