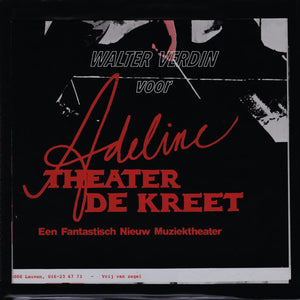 STROOM 〰
Walter Verdin - Voor Adeline LP
Regular price
€21.99
€0.00
Theater De Kreet was a short lived theatre collective that existed between 1979 and 1981. In that period the troupe presented just one performance, a musical called 'Adeline' which had a run of six shows during 1981. 
The members of Theater De Kreet were originally part of a bigger group called Grasgroen, which was founded by art history students from the Leuven University. The collective mainly focused on so called 'animations' in the public space. After a while, Grasgroen split into two different groups (theatre and performance), and Theater De Kreet came into existence. Its core members were
Walter Verdin
, Guy Dermul, Hilde Wils, Gaby Geysens and Nicole Boffin. Mainly using improvisatory methods, the collective started working on 'Adeline' in 1979. The premiere took place in October 1981 and was met with very mixed critical reviews. Walter Verdin was in charge of the music for 'Adeline'. Originally an art history and visual art student, Verdin was introduced to the Belgian music scene through his record sleeve and poster designs. Prior to the music for 'Adeline', he released a solo album and a 7" white man reggae project with Grasgroen ('Storingen' by
Specimen & The Rizikoos
). Later in his career, he had his biggest commercial success with
Pas de deux
, the band that represented Belgium at the Eurovision Song Contest in Munich (1983). After the Pas de deux adventure, Verdin gave up on popular music and had a blooming career in video art, working on video concerts and installations and later on with renowned theatre and dance companies from all over the world.

 



To write the soundtrack for 'Adeline', Verdin took to the studio of the Audiovisual Services of the KU Leuven, which was his audio and video laboratorium for around 20 years, and subsequently to the ICP Recording Studios in Brussels for post-production. Verdin & co. didn't compose behind a writing desk or a piano. Music for them meant playing - with an instrument, but also with non-traditional instruments. The spring of a desk lamp for instance, could be used to produce music too.

 
Tracklist

A1 De Zus Van Adeline 6:04
A2 Squeezin' 4:36
A3 Dreamin' 4:44
A4 Wavin' 5:11
B1 Lancement 6:28
B2 Vijf Tape Loops 2:09
B3 De Zus Van Adeline (playback-mix) 6:02
B4 A Million Miles (Pas de deux) 3:33
---
You might also like