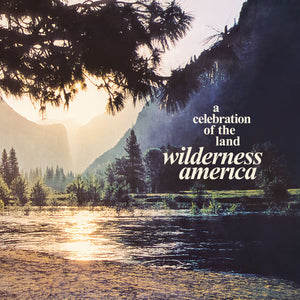 Ebalunga!!
Various - Wilderness America, A Celebration Of The Land LP
Regular price
€27.99
€0.00
Before I'm gone
I'd like to see us turn the corner
and give up being spoilers of the land . . .
In 1975 Wallace 'Wally' Smith Broecker published a paper that popularised the term 'global warming' and against a backdrop of change and environmental uncertainty, a musical concept album was commissioned. 'Wilderness America / A Celebration of the Land' - is a musical exploration of our place within the cycle of living things. All compositions were specially commissioned for the album and blended with natural sounds recorded in the wild – lending the entire project a conceptual air that still feels fresh today.
The journey begins with the sun rising in the atmospheric haze of 'Dawn' - a track composed by new-age innovator Iasos. Gospel singer Walter Hawkins soon drops in with the soulful but ever so funky 'Metropolis' backed by a heavy array of session musicians with Patrick Gleeson, Ed Bogas and Tom Salisbury all adding their own misty magic to the album. David Riordan is the sorcerer conjuring up many of the compositions and also takes vocal duties on the evocative 'Mountain' and the climatic 'Before I'm Gone'.
'Wilderness America / A Celebration of the Land'
 

was born when environmentalist Emily DeSpain Polk assembled a group of California residents to participate in a groundbreaking conservationist project. Christening the group SWAP (Small Wilderness Area Preservation) Emily needed funds and began a project to produce a promotional nature based music album. To acquire the financial backing Emily would need to source a musician of some calibre. Contacting Cliff Branch from 'Warehouse Sound Co.' she was told the man she was looking for was David Riordan.

David Riordan had been around the music business for several years, first with The Yankee Dollar, then Sugarloaf and then Sweet Pain, he saw huge success with the single 'Green Eyed Lady'. David had worked on Cliff Branch's 'Warehouse Sound Co. & Friends' albums and then released his solo album, 'Medicine Wheel'. But bored of touring he made the move to more concept-driven albums. First with 'Christmas in San Francisco' and then, in quick succession, 'Wilderness America, A Celebration Of The Land'.

Riordan, along with Peter Scott, a music producer friend in San Francisco, began piecing together an idea for the album. They brought in Ed Bogas to do string arrangements and Tom Salisbury to conduct. David had also asked his friend Patrick Gleeson if he knew of any R&B/Gospel singers in the Bay Area, and they soon added gospel singer Walter Hawkins into the mix.

Other than the track 'Metropolis', which was recorded in LA, the rest of 'Wilderness America, A Celebration Of The Land' was recorded and mixed by Richard Beggs at the San Francisco studio of Francis Ford Coppola. Coppola was filming 'Apocalypse Now' at the same time – so in between studio sessions, the musicians were able to view the seemingly never-ending film rushes arriving from the Philippines.

Eventually, the record produced by David Riordan and Peter Scott drifted onto the radar of vinyl obsessives and selectors as several of its key tracks began popping up on mixtapes and sales lists. It wasn't long before this privately pressed, art-funded masterpiece became something of a holy grail for collectors. At long last, a re-issue of this masterpiece is now available on EBALUNGA!!! Records.

Paul Hillery - May 2022
---
You might also like