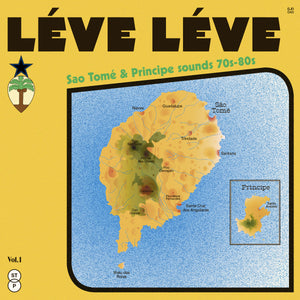 Disques Bongo Joe
Various - LÉVE LÉVE Sao Tomé & Principe sounds 70s-80s 2xLP
Regular price
€28.50
€0.00
The two Portuguese-speaking African islands of Sao Tomé & Principe, located in the Gulf of Guinea, created an unique music called Puxa : a refined mixture of various musical components from both sides of the Atlantic Ocean. A blend of Semba, Merengue, Kompas, Soukouss, Coladeira patterns, often pushing forward with a voodoo-like energy, solid bass lines, delicate melodies and backing harmonies of the rich Sao Tomean melodic traditions. Very first compilation focusing on the golden age of these island's sounds, the 16 tracks selected will surely set fire on all dance floors !
Léve-Léve is the first ever compilation devoted to music from São Tome and Principe, two small islands situated off the coast of Gabon in central Africa. The album unravels a story of liberation where the music of Africa, Europe and the Americas unify with a carefree spirit personified by a phrase the islanders use all the time: "léve, léve" ("take it easy"). With echoes of Angolan semba and merengue, of Brazilian afoxê, of coladeira from Cape Verde and dance music from the Caribbean, it is a sound fiercely proud of its island heritage, sung in local dialects and using distinctive local rhythms.

As a Portuguese island colony that was for many years populated with slaves brought from Africa, São Tome and Principe has much in common with other Lusophone countries and boasts a richly complex and idiosyncratic musical DNA. Whilst the musical tapestries of Angola and Cape Verde are well known, São Tome and Principe's secrets were assigned to the islanders themselves. Until now.
---
You might also like