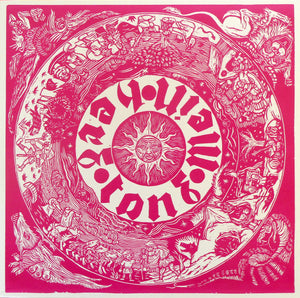 Standard In-Fi
Tanz Mein Herz - Quattro 2xLP
Regular price
€34.99
€0.00
2xLP, 444 copies. Silkscreen printed cover with stamped labels.Released January 2021 in coproduction with Angstrom.
At last Tanz Mein Herz's recordings at Gamounet (2016) have been pressed on marvelous vinyl. Line-up of the band is at it's fullest with Guilhem Lacroux, Alexis Degrenier, Mathieu Tilly, Pierre Bujeau, Pierre-Vincent Fortunier,
Ernest Bergez and Jeremie Sauvage.
Featuring high-end versions of "Magical Stones and Shiny Mud" and "Spiegel Haus" present on the"Dosses" LP as well as yet unreleased themes in the finest audio quality. Play it Loud!
Tracklist
A1
Alor
11:20
A2
Tales From The Middle Of The Night
11:05
B
Magical Stones And Shiny Mud
19:45
C
Spiegel haus
26:36
D1
96
15:25
D2
Outro
7:1
Notes
Recorded
 at Gamounet (St.Bonnet-Près-Riom France) in April 2016 during a two-days public recording session by Frederic Alstadt.
Mixed and mastered by Frederic Alstadt at Angstrom (Bruxelles, Belgium)
Original wood engraving by Valentin Capony
Cover silkscreened by Olivier Bral


---
You might also like