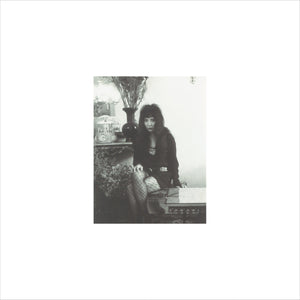 Concentric Circles
Shizuka - III LP
Regular price
€36.99
€0.00
*** Please note all copies have one bent corner due to shipping ***

During the 1990s Shizuka self-released a series of four cassettes, barely heard by anyone outside of their inner circle. Culling together live recordings and home demos, these served as companions to the scant amount of proper Shizuka releases at the time (including the recently reissued Heavenly Persona). Concentric Circles is proud 
to present the third and most anomalous cassette from Shizuka, simply titled III, on vinyl for the first time in an edition of
 

500 copies.

Formed by guitarist and singer Shizuka Miura, alongside husband Maki Miura, who'd previously played with both Les Rallizes Dénudés and Fushitsusha, the group known as Shizuka started in the early 90s with Jun Kosugi (also of Fushitsusha) on drums, and a revolving cast of bass players, including J.J. Junko, whose sole recorded appearance with the band is here on III.

Devoid of any of their trademark noise and bombast, III feel distinct from their studio and live albums of the era, largely due to its fragility; haunted and spare, the songs revolve around Shizuka Miura's gentle, unforced sighs, and Maki's flickering, flinty guitar. The first side of the album features four songs – "For You," "Lunatic Pearl," "The Night
When The Door Opens" and "To The Sky" – which will be well-known to Shizuka fans from previous recordings, but the drastically understated renditions here are particularly moving for their quietude and intimacy.

The second half of III consists of a side-long duo session, just Shizuka and Maki Miura together at home, circling around the simplest two-chord motif for twenty minutes, Shizuka singing the most heavenly melody, strung through the sky of this lengthy improvisation. It's an astonishingly beautiful performance, one that stills time through its becalmed repetition, pointing towards the endless forever. In this respect, it feels like an ultimate extension of Opal's early recordings, Big Star's 3rd or even Galaxie 500's quietest moments.

III lifts the darkness away, allowing for a softer, more gentle Shizuka to shine through, bringing with it a side to the band that most never knew existed. A lovely discovery if there ever was one.
---
You might also like