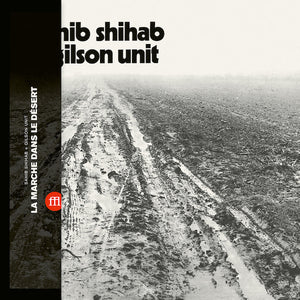 Souffle Continue
Sahib Shihab + Gilson Unit ‎– La Marche Dans Le Désert LP
Regular price
€21.99
€0.00
First ever vinyl reissue of this French free jazz nugget from Sahib Shihab & Jef Gilson Unit. Remastered from the master tapes. Restored artwork + Obi Strip.
Paris, February 1972. A few months after having released Le Massacre du Printemps, Jef Gilson was back behind his keyboards for a completely different experience. Heading up his Unit, he was joined by Sahib Shihab, expartner to Gillespie, Monk and Coltrane, for a brief stroll in the desert. For three-quarters of an hour, the caravan passes by, evoking, one after the other, Pharoah Sanders and Alice Coltrane, Pierre Henry and Karlheinz Stockhausen… Oh yes, and one other thing, we forgot to mention that Shihab's saxophone is… amplified.

La marche dans le désert, (The Walk in the Desert) is first and foremost the meeting of two iconoclastic musicians: Jef Gilson, pianist who tried his hand in all forms of jazz (bebop, choral, modal, free, fusion…) collaborating with emblematic American musicians (Walter Davis Jr., Woody Shaw, Nathan Davis…) or French
musicians who were on their way to becoming so (Jean-Luc Ponty, Bernard Lubat, Michel Portal, Henri Texier…), and Sahib Shihab… Shihab is one of the many black American jazzmen who found refuge in Europe. After having played in the bands
of Fletcher Henderson and Roy Eldridge, the saxophonist worked with Dizzy Gillespie, Thelonious Monk, Art Blakey and Tadd Dameron. He came to the old continent with the Quincy Jones orchestra, spent a few years in Copenhagen, returned to Los Angeles, then came back to Europe. When he met Jef Gilson, in February 1972, the saxophonist was happily touring with the Clarke-Boland Big Band.

La marche dans le désert, is therefore the opportunity for this supporting player to show what he was capable of. And it was some opportunity: with Gilson and his Unit (Pierre Moret on keyboards and Jean-Claude Pourtier on drums, with whom the pianist had just recorded Le massacre du printemps, but also with Jef Catoire on double bass, and Bruno Di Gioia and Maurice Bouhana on flute and percussion respectively), Shihab got maximum exposure.

To mark the occasion, he put aside his baritone saxophone to play a soprano… varitone. The amplified instrument, while losing nothing of its natural sound, was capable of generating the same presence as Gilson's electronic keyboards. And it would change the face of modal jazz: in a forest of percussion, Shihab and Gilson go on a sensual walkabout that will remain with listeners for long after. Between the two takes of Mirage, Shihab, this time on baritone again, takes up the mantle once more of a style of jazz he was unable to strictly define: "For me there is only one type of music: good". Let's make one thing clear from the outset: La marche dans le désert, is definitely good.
---
You might also like