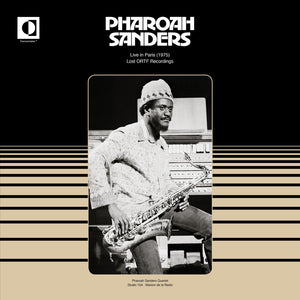 Transversales
Pharoah Sanders - Live In Paris (1975) LP
Regular price
€28.99
€0.00
Transversales Disques proudly presents Pharoah Sanders - Live in Paris (1975). A never-before-released ORTF recording performed live at studio 104, Maison de la Radio, Paris. First official release with the full permission and cooperation of the National Audiovisual Institute.

By 1975, Pharoah Sanders had become a reluctant star in the worlds of free and spiritual jazz. He wasn't trying to be famous; after years of living without a home in New York City and selling his blood for food, he simply wanted to line up enough gigs so he could eat and have a place to stay. But after his peers John Coltrane and Albert Ayler died in 1967 and 1970, Sanders was suddenly at the vanguard of a new kind of energy music, a mind-bending form of jazz meant to reach heaven through shrieking saxophones and boundless rhythm. The idea, it seemed, is if the horns were loud enough, the music might reach God's ears personally.

Sanders' music was different, way different, and his art took a little more time to digest. Listeners hadn't heard a singer yodel on a jazz track, though that's just what vocalist Leon Thomas did on "The Creator Has a Master Plan," the multi-part 32-minute centerpiece of Sanders' 1969 album, Karma. There was also the saxophonist's shrill style of playing, a roar so swift and face-frowning that The New Yorker's Whitney Balliett likened it to "elephant shrieks." Sanders pressed on anyway: in 1971, he was a featured player on what might be Alice Coltrane's best album, the incredible Journey in Satchidananda, while releasing his own great solo work—Thembi, Black Unity, Elevation, and Izipho Zam (My Gifts) to name a few.

Live In Paris (1975) captures a live performance by the Pharoah Sanders Quartet in the Grand Auditorium / Studio 104 on November 17th, 1975. Featuring Sanders on tenor sax, Danny Mixon on organ and piano, Calvin Hill on double bass, and Greg Bandy on drums, the bandleader sounds surprisingly restrained here, letting others assume the lead by taking some of the steam out of his horn. And he almost does the same on the live rendition of "The Creator Has a Master Plan," until shortly before the four-minute mark when a faint, recognizable squeal emerges from the back of the mix, and the bandleader howls through tumbling drum fills, surging bass, and the kind of organ chords you'd hear in an old horror flick.

Yet if "Creator" feels tethered to some sort of doom, the following track, "I Want To Talk About You," slows the pace to a romantic stroll; it's almost smooth jazz before that was truly a thing, and Sanders emits a softer tone, foreshadowing where he went musically in the late '70s. But it's on the concluding track, "Love Is Everywhere," where the band goes off. All praise shouts and handclaps, the song opens with a mantra that, when repeated several times in eight minutes, feels like a benediction in an old Southern Baptist church. Toward the end, as the arrangement dissolves and Sanders wails through it, the crowd erupts in thunderous applause. It's unclear if they all converted to his wave of spirituality, but based on the night's raw emotion, some new fans must have pledged at his creative altar.

Deluxe edition, Classic Tip-On Gatefold jacket, including exclusive liner notes and pictures. Mastered from the original master tapes.

Pharoah Sanders Quartet :
Saxophone ténor : Pharoah Sanders
Piano et Orgue : Danny Mixon
Contrebasse : Calvin Hill
Batterie : Greg Bandy


---
You might also like