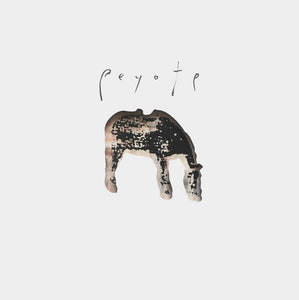 B.F.E. Records
O Yuki Conjugate - Peyote LP
Regular price
€21.50
€0.00
Timeless masterpiece of tribal ambient, an absolute must-own for any fan of the genre. Peyote is a musical trip well worth taking. Edition of 500 copies in die cut cover.

Originally released in 1991 on cd and now released on vinyl for the first time. O Yuki Conjugate (OYC) are an English post-industrial/ambient musical group founded in 1982 in Nottingham by Roger Horberry and Andrew Hulme and still - intermittently - active today. Originally inspired by the spirit and sound of post-punk, they soon started pioneering their own brand of ambient at a time (early 80s) when few people were interested in such a low-key approach. Their music has been variously described as 'ambient', 'fourth world', 'ethnic', 'tribal' and 'dark wave'; the band prefer to call it 'dirty ambient'.

A return to the power of our primitive ancestors whirling before fires and evoking the spirits. An intense aura of truths more primal and clear. Warm, enveloping and invigorating textures. O Yuki Conjugate's music inhabits some netherworld between ethnic, ambient, improvised and experimental sounds. The music here is built largely on ghostly layers of percussion suggesting ceremonies of ancient worship. Eerily affecting.


---
You might also like