Blume
Mary Jane Leach - Pipe Dreams LP
---
Two astonishing archival works by Mary Jane Leach are now available on vinyl for the first time, bringing to life a wondrous iteration of the highly fertile 1970s New York minimalist scene. 

Mary Jane Leach is a definitive model of the American avant-garde and experimental composer - creatively brilliant, tragically underrecognized, yet always there, rigorously plumbing the depths, issuing challenges, venturing toward the unknown. Having moved to New York during the middle 1970's, she entered fray during a crucial period in the city's creative and cultural life, joining a community of remarkably talented and ambitious Downtown composers, which, among others, included Julius Eastman, Arthur Russell, Arnold Dreyblatt, Ellen Fullman, Philip Corner, Daniel Goode, and Peter Zummo. In addition to her own work, with William Hellermann, Goode, and Zummo, she has been an active member go on found the legendary Downtown Ensemblesince 1983, and in the case of Eastman, following his untimely death, become the great champion and protector of the composer's legacy. Her tireless efforts are the wellspring for the surging contemporary interest in his work. She is artist for whom community is the bubbling source of singularity and truth.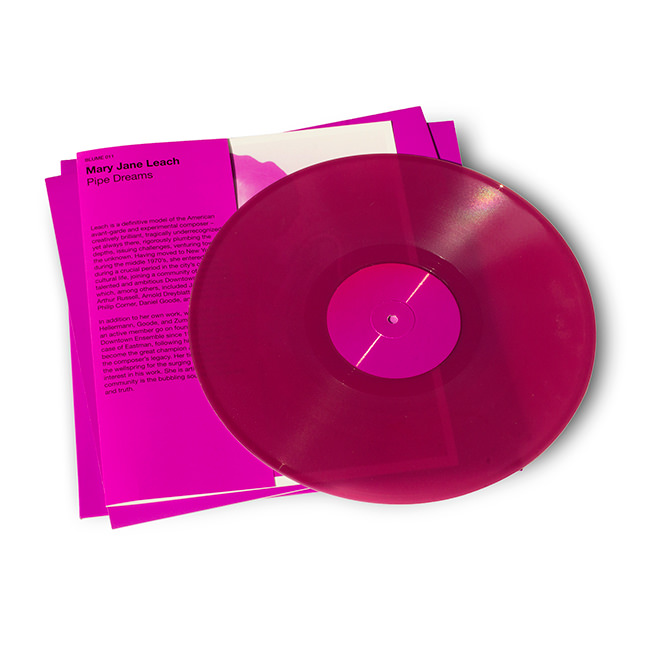 Leach's creative practice began at the cross-roads of the Modern and Post-Modern - with the death the American dream, its hegemonic point of view, and with the unreconcilable reductive legacies of their predecessors, the Minimalists, who heralded the end of the 20th century's dominant arc of creative and intellectual thought. To its young minds, mid to late 70's presented the particularly daunting challenge of where to go from there, birthing a new breed of composer - one standing outside of the concise movements, linear progressions, and responses known to Modernism, wading toward discrete words of internal investigation. Some reduced further, grasping untapped territories of instrumentation, resonance or tone. Others introduced complex structures and relationships. Some drew on a diverse range of histories and cultural traditions, establishing hybrid forms, while others channelled the fledgling movements of Disco and Punk. Leach took another path, pursued the physicality of sound and acoustic phenomena - investigating their properties, and interactions with space.

The release in our hands represents a turning of the tide - a means through which to offer the composer the attention she has always righty deserved, with the fortifications of context and historical proximity. Equally, it should be approached with the recognition of transformation and loss. While astounding and aurally engrossing, as they appear before us, according to the terms in which they were conceived, these two works are, in essence, altered and abridged by the means of delivery. This doesn't diminish their value. It is phenomena and dynamic which naturally effects most recorded works when placed against their live realisations. But, in the case of Leach, the acoustic phenomena which can only realise itself within an environmental experience, is an actor in the work itself. A figure whose natural loss should be acknowledged.       

Long overdue, these works are an open door - an entry into a body of thought and sound which has lingered just out view, issuing its quiet influence over the past four decades. They are the light shone on the shadows of neglect, illuminating Leach as one of the most important and underrecognized voices in her generation - those New York composers who followed the Minimalist, shouldering an unfathomable challenge, while constructing new a meaning and pathways for the avant-garde. This is not a mere album, this is history reborn and living in the present day. (from Bradford Bailey liner notes)
---
You might also like...