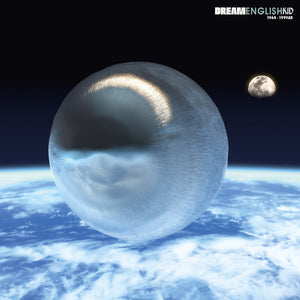 The Death Of Rave
Mark Leckey - Dream English Kid 1964 - 1999AD LP
Regular price
€21.99
€0.00
The Death of Rave are dead chuffed to present the OST for Mark Leckey's autobiographical film installation, Dream English Kid 1964-1999AD, arriving nearly four years since the Turner Prize winning artist booted off the label with his much-loved and inspirational Fiorucci Made Me Hardcore soundtrack - which was subsequently parsed by IVVVO on Mark Leckey Made Me Hardcore, and also provided a sampled backbone to Jamie xx's In Colour LP.

In Leckey's own words: "Dream English Kid began when I found on YouTube an audio recording of Joy Division playing at a small club in Liverpool. A gig I'd been present at but could barely remember. As I listened I wondered if, through enhancing the audio, I could actually find my fifteen-year-old self in the recording. That led me to think would it be possible; at this point, with so much imagery available in the digital archives, to reconstruct my memoirs through all the DVD re-releases, eBay ephemera, YouTube uploads and above all the resource of the internet itself; the way it can actualize half-forgotten memories and produce a niche for seemingly every remembrance."

Twice as long as Fiorucci… (1999) and cleft over two sides of wax, the film Dream English Kid 1964-1999AD and its soundtrack expand on its conceptual precedent by dilating its focus from late '80s casual and '90s rave culture to reflect and refract Leckey's 35 years on earth before he became a mainstream, world-renowned artist.

Over seven parts, he employs the ubiquitous filters of contemporary culture, the internet and editing software, to traverse a timeline reaching from his birth in '64 - against a backdrop of The Beatles and astronauts landing on the moon - to end up in the pre-millenial, pre-digital tension of '99, signified by news reports and licks of Azzido Da Bass' Doom's Night, before spiralling into a reverse edited blur.

What occurs between those points forms a mixtape-like reverie of half-cut memories and abstracted, e-motif flashbacks gelled together by swooping, plasmic subs, smoke-clogged filters and uncannily psychoacoustic detail that really comes to life in headphones or with proper amplification.  
Referring to the original sense of the term, nostalgia-as-illness, the piece has a deeply miasmic, febrile sensuality, which, when separated from the visual content, provides an oneiric side-effect all of its own, one which pays testament to the most subtle, psychedelic aspects of Leckey's genius and broad appeal. 
Mark Leckey: Dream English Kid from Liverpool Biennial on Vimeo.
---
You might also like