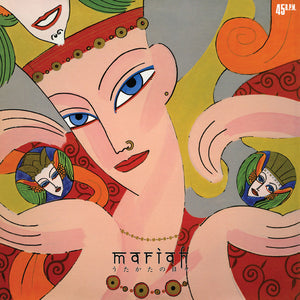 Palto Flats
Mariah - Utakata No Hibi 2xLP
Regular price
€29.99
€0.00
The 1983 cult-classic 'Mariah - Utakata No Hibi' sees its re-release for the first time. Deluxe edition with printed innersleeves.

The long sought after final record on the legendary Better Days label, Utakata No Hibi is the culmination of composer and bandleader Yasuaki Shimizu's early-80s work, often compared to his contemporaries Ryuichi Sakamoto and Haruomi Hosono, as well as experimental new wavers Flying Lizards/David Cunningham, all of whom Shimizu has worked with. Recognized in Japan for the hit, 'Shinzo No Tobira,''

The entire record is a masterful studio production of Japanes folk and pop idioms filtered through a chamber disco, new wave, synth production, sounding more relevant today that upon its release over 30 years ago. Issued by Palto Flats Records, Utakata NO Hibi is fully licensed by Columbia japan and the Aritst and remasterd by Dubplates in Berlin. The packaging features additional artwork from Ira Okudaira, who created the original stunning jacket drawings. It retains the original double 12'' 45 rpm play format, and includes a full English translation of the Japanese and Armenian lyrics on the printed inner sleeves.



---
You might also like