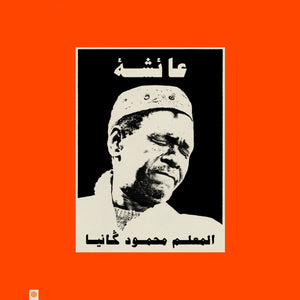 Hive Mind
Maalem Mahmoud Gania - Aicha LP
Regular price
€28.99
€0.00
Hive Mind celebrates their tenth release by bringing the label full circle, right back where they started from: we're excited to announce that we've once again worked with the Gania family of Essaouira to bring you another reissue of the music of the undisputed King of Gnawa music, the late Maalem Mahmoud Gania. It feels like the perfect time to release this spiritual music, specifically played to heal and to cure us of our ills, as the world is in the grip of a viral pandemic and powerful forces seem to be polarising people all around the globe. We hope that Aicha will enable you to carve out some healing space in amongst the chaos of the world.

Aicha was previously released on cassette in Morocco only in the late 1990's. Maalem Mahmoud Gania was a particularly prolific artist recording for many labels in Morocco and many details about the recording of this particular album or the people involved are destined to remain a mystery. However, we do know the album was recorded in the Gania's home town of Essaouira with only a small and intimate group of supporting musicians. The resulting album, after the dizzying intensity of the opening song, offers more relaxed, laid back interpretations of the Gnawa ritual repertoire, and a deeper, more gentle sound than our previous Gania release, Colours of the Night. The album shines a light on Mahmoud's virtuoso guimbri playing and mastery of Gnawa songcraft, and is a standout amongst his many cassette releases.

The album comes with extensive sleeve notes written by Tim Abdellah Fuson, Berkeley scholar and curator of the excellent Moroccan Tape Stash blog.
---
You might also like