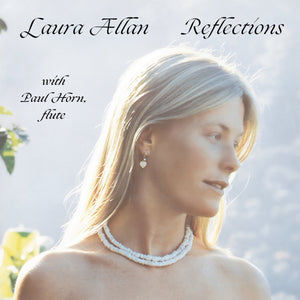 Fact Of Being
Laura Allan with Paul Horn - Reflections LP
Regular price
€27.99
€0.00
Long-awaited reissue of the legendary ambient/new-age album "Reflections" by Laura Allan with Paul Horn.
The album was recorded in 1980 and marked by the participation of twice Grammy Awarded jazz legend flutist Paul Horn. 
The meeting of Laura and Paul was a true miracle that brought amazing fruit. Since 80th "Reflections" captivate the minds 
of spiritual ambient music fans all over the world.
Magical sounds of flute, endless melodies of zither, Laura's heavenly voice lighted by meditative bells and synthesizers. 
A simple recipe but with great talents and unique results. Laura's reflections lead a listener to deep meditation, harmony, and to the eternal palace of inner peace. We hope you'll share with us the pleasure of listening to the record and the world become a bit more peaceful place for everyone.
This is the first reissue on the vinyl since 1984 when the album was repressed the last time. 
After 38 years the record became collectors' dream and now it's available again as it should be. 
The record was mastered by Jessica Thompson.

Laura passed away on May 19, 2008, after a half-year battle with cancer. She was just 56. Enjoy Laura's art that makes her alive.


---
You might also like