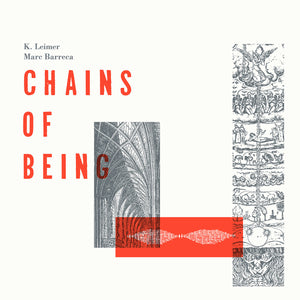 Abstrakce
K. Leimer / Marc Barecca - Chains Of Being LP
Regular price
€19.99
€0.00
Avantgarde electronic ambient walking through the paths of Brian Eno, Harold Budd or Roedelius. A conceptual and contemporary approach to Early music, exploring its ambiences, timbres and feelings. Delicate experimentation with sound textures where different tones of white noise can meet the strings from a viola da gamba. A cinematic work, very touching and emotional. Almost mystic, spiritual ambient.
Presented in a very careful edition, the record comes packed in a folder printed in letterpress with wood and lead types. Six letterpress cards -one per track- are also included contextualizing the artists' references used as an inspiration for their compositions.
"These three pieces spring from a love of Early Music, specifically the works of Sainte-Colombe, Marin Marais and John Dowland. Each of these composers — their lives spanning a period of great musical innovation and change from 1563 to 1728 -- is represented by a track included here. While there are no direct quotations present from any of their pieces there is a now familiar reliance on timbre and even on drone, elements that flourished in the often slowly-paced and harmonically narrow style of Early Music. Those
 

stylistic elements have been taken up today, deliberately or not, by Ambient, Dark Ambient, Post-Ambient, and Slow Music artists. In atmosphere Early Music often evokes a melancholic — even elegiac — sensibility appropriate to the present time." — K. Leimer

"These three tracks were inspired by the shadows, streams of sunlight, muted colors and peaceful interior ambience of Spanish cathedrals. Calm and mystery combined." — Marc Barreca

K. Leimer and Marc Barreca are two american synth/multi-instrumental musicians that have been active since late 70's. They have some previous collaborations released in Leimer's imprint Palace Of Music. His large and wonderful work have been reissued by labels like Vinyl on Demand, Rvng Intl and Freedom To spend.


---
You might also like