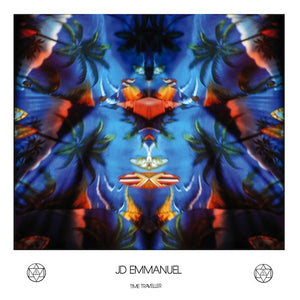 AguirreRecords
J.D. Emmanuel - Time Traveler 2xLP
Regular price
€19.99
€0.00
Kudo's to Lieven Martens of Dolphins Into The Future for bringing J.D. Emmanuel back into the spotlights. In 2007 Lieven dug up the masterpiece album Wizards and re-issued it on his own label. A few years later, in 2011, J.D. was asked to tour through Europe where he was accompanied by Dolphins Into The Future and Paul Labreque. Denmark, Belgium, Sweden, Germany and Holland welcomed J.D and the people attending the concerts knew they were in for an electronic blast from the past!
This 2xLP set covers the tour with a great deal of unreleased live tracks. The live recordings show J.D.'s phenomenal skill to create a universe of swirling and constantly turning sounds. He's up there in the big league of early electronic and new age pioneers with the likes of Iasos, Laurie Spiegel and Trans-Millenia Consort.

Some words from the man himself: "After my European tour, I decided to use the name Time Traveler to describe my music because it can put the listener into a state where time seems to disappear. This is my goal with my music, to create an altered state for expanding consciousness." 

With Hawaïan inspired artwork, just like JD's colorful character and of course his t-shirts.

° Glossy double sided insert.
° Mastered by J.D. Emmanuel
° Pressed @ Handle With Care, Berlin
° Limited Edition of 500 copies.


---
You might also like