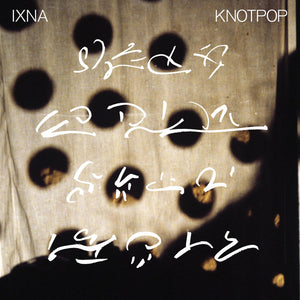 Concentric Circles
Ixna - Knotpop LP
Regular price
€19.99
€0.00
Knotpop
 is a revelatory lost album of deviant new wave from San Fransisco duo Ixna. Like 
Brian Eno
 and 
The Flying Lizards
, the album is a sideways and inverted take on pop music. Jay Cloidt and Marina La Palma were students of 
David Behrman 
and 
Robert Ashley
 at Mills College, inspired by their infamously irreverent faculty to nudge the avant-garde out of its stuffy tweed and into something more exciting, something clad in denim & leather.
Recorded at the Center For Contemporary Music at Mills in 1981, the album combines Cloidt's studio wizardry, sampling abilities and vibrant bass with La Palma's expressive vocals, and love of made-up and invented languages (Esperanto). Ixna only released one 7" during that time, featuring two songs from this unrealized album, which became sought after over the decades. The discovery of 
Knotpop
 will feel like manna from heaven for previous fans, and a welcome addition to the cannon of avant-inverted-pop ur-classics by 
Suicide, impLOG, Naffi, General Strike, Thick Pigeon
 and 
UnknownMix
. Concentric Circles is honoured to present 
Knotpop
 to the world for the first time. Mastered from the original reels, DMM pressing.
Tracklist
A1
Fun Fun Fun
4:13
A2
Ridi Ridi
3:05
A3
Black Shirts
3:35
A4
Flashlight
6:56
A5
I Can't Remember
3:57
B1 
Galileo
4:35
B2 
Somebody Said
3:32
B3 
In The City
3:28
B4 
Ixna Portal Exo
3:27
B5 
Mi Ne Parolas
2:44
---
You might also like