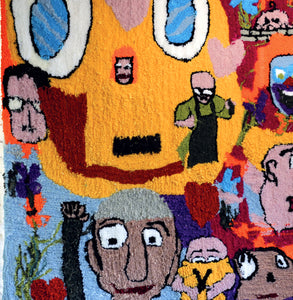 bison
Humming Dogs - Les Borigènes LP
Regular price
€21.50
€0.00
An absolute pleasure to present 'Les Borigènes' - the first LP from France's Humming Dogs. Born from the radical 'Oiseau Mouche' (Bird-Fly Company) - a troupe of actors and comedians who focus on the theatre of gesture - Humming Dogs make joyful, avant rock music, which pooh poohs the po-faced in favour of a party.
Humming Dogs are made up of eight members - David Bausseron, Mathieu Breuvart, Florence Decourcelle, Thierry Dupont, Chantal Esso, Léa Le Bars, Florian Spiry, and Valérie Waroquier, who each write and create songs, swap instruments and sing collectively. Guitars, bass, drum kit, and keyboards mix with toy percussion, amplified pine cones, pot lids, iPads, a zither and an arsenal of effects. 'Ha Ha Ha' opens the record with the group dispersed and growling at one another, only to break out in infectious laughter, a free word riot and a thick bass melody. The traditional French song, 'Karnaval', gets totally sent by keyboards and a slung low guitar scrawl, egged on by the bands hooting and hollering. 'Ça Me Gratte' haunts and grates until it splits with a rising synthesizer and squeaking Bonios. The spitting, itching, near exhausted vocals from Chantel Esso are unlike much else we've heard.
'Les Borigènes' contains the self taught, simple charm of the Shaggs 'Philosophy of the World', performed in the spirit of village revelry and recorded and edited beautifully in the tradition of the GRM. Democratized experimentation, low ego rock'n'roll - Les Borigènes is a truly joyous, remarkable and wild record. It arrives in an edition of 500 140g black vinyl LPs, with artwork from London's Submit to Love Studios and Taylor Silk.


---
You might also like