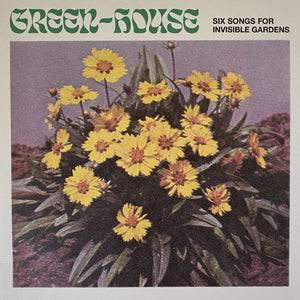 Leaving Records
Green-House ‎– Six Songs for Invisible Gardens LP
Regular price
€21.50
€0.00
Green-House is the project of Los Angeles based artist Olive Ardizoni.
Approaching the project with an intentional naivety, they craft songs that find freedom through simplicity. As a non-binary artist, they hope to create a space with fewer barriers as both a performer and a listener.
Their first release as
Green-House
, "Six songs for Invisible Gardens" (out Jan 15, 2020) was written with the intention of transforming the listening environment and augmenting domestic space. The music is designed as a communication with both plant life and the people who care for them.
Notes
all songs written and produced by Olive Ardizoni
additional keyboards and production by Michael Flanagan
artwork by Michael Flanagan
Tracklist
A1
Parlor Palm
A2
Peperomia Seedling
A3
Perennial Bloom
B1
Sanseveria Sp.
B2
Soft Meadow
B3
Xylem
---
You might also like