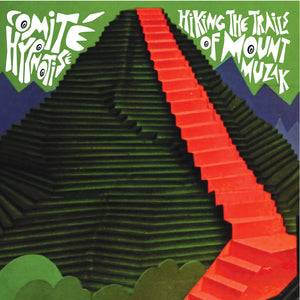 Cortizona
Comité Hypnotisé - Hiking The Trails Of Mount Muzak LP
Regular price
€24.99
€0.00
No time to waste: nine months after Tim Vanhamel released 'Dubs Pour Oh La La', his debut album under the moniker Comité Hypnotisé, the Millionaire frontman presents already the second album 'Hiking The Trails Of Mount Muzak'.

Hardly leaving any traces of the dubbed out vibe which marked the first record, Tim expands his Comité Hypnotisé universe to a surprising next level on this second album: exploring a place where Martin Denny, Wu-Tang Clan and Dj Shadow are cooking up a Thai meal in a Peruvian restaurant overlooking the breathtaking peaks of Mount Muzak.

Ney flutes tumbling backwards over the edge of easy listening in opener 'Rise Of The Equinoxians', lurking for feel good vibes in 'Red Wolf Riddim' and breezing in to new dimensions in 'Zing Zoing' on the A-side while the Comité enters the chambers of the 70's 'Disco Skank' and rides an untamed dragon towards the scorching sun in search of a flame-bringing beat in 'The Dragon Rider' on the flipside.


---
You might also like