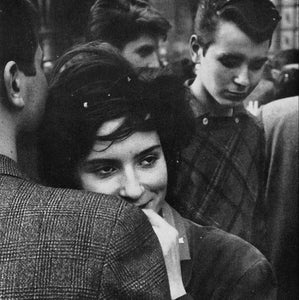 Quirlschlängle
Brannten Schnüre - Erinnerungen an Gesichter LP
Regular price
€29.99
€0.00
*** limited to 1 per customer ***

"Erinnerungen an Gesichter" is a city-as-garden dream-vision rendered in cut-glass Sprechgesang, elegantly mouldering chamber music and uniquely sensitive, minimal electronics. Fragments of the antique/pastoral instrumentation that characterised Katie Rich and Christian Schoppik's previous work as Brannten Schnure (including that fine 
Muschelsammlung
 LP on Vrystaete) - woodwind, hand-drums, strings, piano, 
fin de siècle 
music-box melodies – are looped and smeared here into a dronal, hallucinatory folk music for city-dwellers adrift in their environment, in their thoughts, in the vaporous unknowable patternings of non-human forces (them again!).

Rich has a voice you could listen to all day, beautiful and austere, and it takes centre-stage here. Her words and phrasings are, at times, as piquant as lines of Imagist poetry; elsewhere they have a documentary, matter-of-fact quality - a young woman walking the streets, inventorising her surroundings with absolute precision and clarity, for entirely mysterious ends. Impossible to think of appropriate reference points for this very special record, but fans of HNAS, Brigitte Fontaine, Dettinger, GAS, Mirror, Werkbund, Virginia Astley ++ owe it to yourselves to check. 

---
You might also like