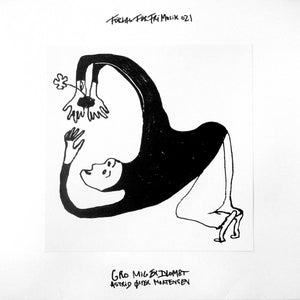 Förlag För Fri Musik
Astrid Øster Mortensen - Gro Mig En Blomst LP
Regular price
€29.99
€0.00
When you think of music cities, Gothenburg, Sweden likely isn't the first one that comes to mind, but the town has been quietly churning out some of the most vital experimental music of the past decade. The scene has largely been documented by labels like Förlag För Fri Musik and I Dischi Del Barone, whose small batch pressings sell out quickly (although some international labels are getting hip to the scene, working with these and other local labels to co-release new albums and reissue some classics). As feels typical from this scene, Gro Mig En Blomst arrived a few weeks ago with little fanfare and scant biographical information about its mastermind, Astrid Øster Mortensen. Luckily the music speaks for itself; Mortensen's debut album defies easy categorization, but undoubtedly places her firmly in the upper echelons of acts within the Gothenburg scene.

Though Mortensen hints at traditional songcraft throughout Gro Mig En Blomst, she seems more interested in building texture and atmosphere than writing songs. She constructs delicate melodies on piano and guitar, occasionally singing above them, and then enrobes them in hisses, static and field recordings. Mortensen proves herself a master collagist, using these atmospherics to transform what otherwise may have been a set of delicate folk tunes into something far stranger. The whistled melody and halting guitar line that sit at the center of "Morgen" feel like a fleeting memory, emerging from and dissolving into recordings of outdoor reverie. The simple melody of "Brud i" is drowned in a delicate crackle and the sounds of splashing water, eventually disappearing completely beneath the waves. Even the most straightforward tracks are transformed from simple compositions to otherworldly ones with these added layers of sound.

Otherworldly is really the best word to describe what's going on here. Mortensen's musical vocabulary often brings to mind composers like Arvo Pärt, adeptly using space and silence to heighten the impact of each note (such as on the delicate piano melody of "Piano i"). But it's also much stranger than these reference points; she uses recordings of the drip of water or the chirps of birds, but bathed in hiss and static they appear more like alien dispatches than the sounds of mundanity. Even at its most conventional, her compositions still emits an eerie glow; the title track, one of the most song-adjacent things here, sounds like a haunted church choir with it's lilting melody and chorus of distorted vocals. It's strange but transfixing stuff, perhaps best heard at night. At that time its sounds emerge from the shadows and really take up residence in my head, but it'll still sound good at any time of day. Mortensen's sonic world is so fully imagined that you can't help but get swept up in it, only loosening its grip as its final notes ring out.
---
You might also like