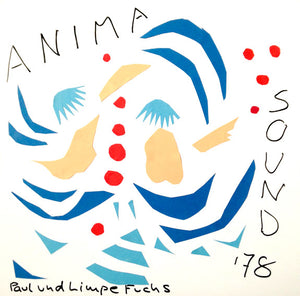 Des Astres D'Or
Anima Sound - '78 LP
Regular price
€119.00
€0.00
With original Artwork by Limpe Fuchs. Numbered edition of 40 ex. This is only the third Album from the Legendary Kraut Group Anima Sound with German Artists Limpe Fuchs and Paul Fuchs.

Previous Albums of Anima Sound were "Musik für Alle" (1971) and "Stürmischer Himmel" (1971). After this they continued releasing their Work as Anima. The Group is known for their free Improvisations in an Area bordered by Psychedelic Music, Jazz and Kraut Rock. Instruments were often build by themselves. During 1972 and 1973 they toured extensively through Europe with a Tractor, Mobile Stage and some Sheep, to give unanounced (and unsolicited) Concerts in smaller and bigger Villages, often to the despair of uninformed Villagers… These Tours were recently published in the Documentary "Anima-Sound: Mit 20 km/h durch Europa (1972) & Gruppe Anima in Salzburg (1973)" 

Limpe Fuchs is currently still highly active as a Musician, Instrument Builder and Visual Artist. Paul Fuchs is a prolific Artist, working as a Musician, Instrument Builder and in the Visual Arts as Painter, Sculptor among other Activities. The beautiful Artwork is from Limpe Fuchs in her own distinct Style of Paper Cuts.

Audio samples can be found here.
Tracklist

A1 Percussion Solo 18:45
A2 Duo With Fuchshorn 5:35
B1 Fuchsharp 4:23
B2 Keyboard Voc. 6:14
B3 Solo Perc. Solo Horn 10:33

---
You might also like