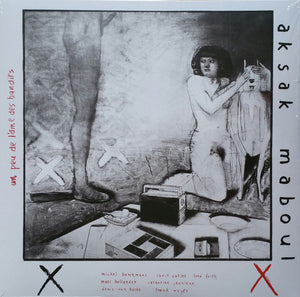 Crammed Discs
Aksak Maboul - Un Peu De l'Âme Des Bandits LP
Regular price
€21.50
€0.00
Founded in 1977 by Marc Hollander and Vincent Kenis, Aksak Maboul already contained some of the key elements of the Crammed æsthetics: eclecticism, internationalism, deliberate and playful mixing of forms, cultures and genres.

"Un peu de l'âme des bandits" (1980) was recorded by a lineup featuring English musicians Fred Frith and Chris Cutler. More intense and "experimental" than the first one, this album's music contains complex, completely written sections as well as totally improvised hardcore ambient pieces, not to mention drum machines, bassoons, sampling before samplers existed, Bulgarian, Pygmy, Polynesian and Delta Blues voices, tango, a Turkish tune, crypto-punk or pseudo-Varese music...

Even the most ambitious moments of "...l'âme des bandits" are infused with Aksak Maboul's customary playfulness: "Tango" for example is based on various existing tangos, the scores of which were cut-up, shuffled and randomly glued back together; the musicians then proceeded to learn the resulting "opus", and actually performed it live in one take; "A Modern Lesson" contains recorded fragments taken from every single other track on the album; the last section of "Cinema" is an improvised impression of a late-night program on Bulgarian radio...etc....

"Un peu de l'âme des bandits" was released in january 80. A couple of months later, the original nucleus of Aksak Maboul (Hollander & Kenis) and the core of Brussels cult combo Les Tueurs de la Lune de Miel decided to recruit each other... With the addition of vocalist Véronique Vincent, the band that went on to become the notorious Honeymoon Killers performed thus in 80-81 across Europe under the name Aksak Maboul... Among the first pieces composed by that new band was "Bosses de crosses", which is included in this CD. They later recorded the "Tueurs de la Lune de Miel / Honeymoon Killers" album and toured under that name, but that is another story... Aksak Maboul has only episodically resurfaced since then: the original duo of Hollander & Kenis recorded one third of the first Made To Measure volume in 83, composed original music for fashion designer Yohji Yamamoto's '86 shows, and created the acid house classic "Drop That Ghetto Blaster" in 88 under the name Mr Big Mouse. The Aksak Maboul spirit is well alive though, as both of the original protagonists play a central role in Crammed's musical policies, both as producers and A&Rs.



---
You might also like