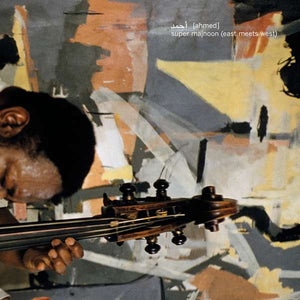 Otoroku
Ahmed - Super Majnoon (East Meets West) 2xLP
Regular price
€28.99
€0.00
أحمد [Ahmed] – the quartet of Pat Thomas, Antonin Gerbal, Joel Grip and Seymour Wright – make music of heavy rhythm, repetition and syncopation set deep into an understanding of jazz and the obscure depths of its history. Across the 2 LPs which make up 'Super Majnoon [East Meets West] 'the group work and rework the music of the late musician Ahmed Abdul-Malik to create a stamping, swinging, relentlessly propulsive record where profundity and physicality root right back to ecstatic feeling. 
Abdul-Malik was a NYC bassist, oudist, composer, educator and philosopher who fused aspects of American, Arabic and East African thought, ethics, meanings and beliefs in open and experimental ways to make vital, forward leaning jazz. [Ahmed] reimagine the notes of Malik as they push for new ground. Melodies respirate, swell, escalate and combust in a driving jazz which yes is technical, yes is accomplished, but ultimately just foot-to-the-floor swings. 
'Super Majnoon [East Meets West]' is a title fused from the leader of the Master Musicians of Jajouka Bechir Attar's description of [Ahmed] after hearing them in Switzerland last year (Majnoon is the arabic slang for 'crazy'), and Abdul-Malik's 1959 album East Meets West. Arriving as a double LP, the first comprises studio recordings of [Ahmed] at Hong Kong's Empty Gallery in 2018 and the second a scorched live recording at OTO from August 2018. The record features photos by Bert Glinnand Taku Unamiand 'in and out' liner notes by James G. Spady – historian and journalist from Philadelphia, the author of books on Marcus Garvey and the trilogy of groundbreaking books on hip hop (Nation Conscious Rap, Street Conscious Rap, The Global Cypha). 
---
[Ahmed] are:
PAT THOMAS / piano 
ANTONIN GERBAL / drums 
JOEL GRIP / bass 
SEYMOUR WRIGHT / alto saxophone 


---
You might also like