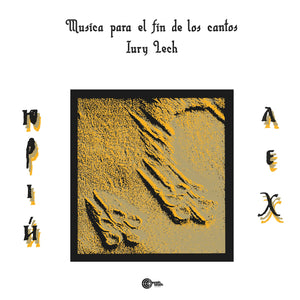 Wah Wah Records
Iury Lech - Musica Para El Fin De Los Cantos LP
Regular price
€21.99
€0.00
This is a very serene, almost entracing record that seems to inhabit its very own space, between "classical" ambient music (
Eno, Budd
), "systems music" (
Reich, Glass, Riley, Hassell
), japanese kankyo ongaku (
Hiroshi Yoshimura, Takashi Kokubo
), even hinting at what would become 90's ambient electronica (
B12, Nuron
, 
SAWII-
era 
Aphex Twin
 or the 
Fax +49-69/40464
 label). Actually, 
Lech
 would be one of the few artists to perform at the first-ever Sonar Festival (Barcelona) back in 1994 (together with 
Suso Saiz, Esplendor Geometrico, Mixmaster Morris
 or 
Laurent Garnier
).
 A key early effort from this musician and A/V artist whose career spans well over thirty years and a miriad of works, performances and instalations: Art Futura, Sonar, ISEA, Ars Electrónica (Austria), Festival Videoformes (France), Festival de Nuevas Músicas (Madrid & Sevilla), Ciclo Experimental LEM (Barcelona), Knitting Factory (New York), The Korner (Taipei), Festival Pop Komm (Cologne-Germany), Festival Experimenta (Madrid), Festival DAFT @ Taipei (Taiwan), ART BEIJING, Festival EXIS @ Seúl (South Korea), JMAF (Tokio, Japan) or Artefact:Chernobil 33 (Kiev-Ukraine).
 The 
Wah Wah

 
edition has been mastered from the original tapes, reproduces the original sleeve artwork and and features an insert with photos and info. It is a strictly limited edition of 500 copies only.


---
You might also like