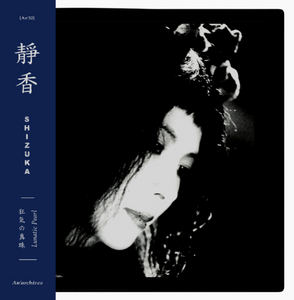 An'archives
Shizuka - Lunatic Pearl 10"
Regular price
€29.99
€0.00
Following the long-awaited 
Paradise Of Delusion
 LP from 2021, 
An'archives

 
announces 
Lunatic Pearl
, a 10" EP by Japanese psych-pop legends 
Shizuka
. As with the material on Paradise, 狂気の真珠 [
Lunatic Pearl
] draws from the deep well of music the quartet recorded in 2001, this time from two studio sessions. Here, though, the group's classic line-up of Shizuka,
 

Maki Miura, Jun Kosugi

 
and
 

Seven
 is augmented –on the a-side, they're joined by 
Yasushi Nagata

 
on guitar; flip the record, and 
Kazuhide Yamaji

 
chimes in on acoustic guitar and bass.
Both Nagata and Yamaji were members of long-running Tokyo psych-out gang 
Dip
 (also known as dip the flag); Yamaji eventually joined Shizuka for a time, appearing with them on the 2010 DVD, 
Owari No Nai Yume
, released by 
PSF
. Part of Lunatic Pearl finds Shizuka in Paisley Underground mode, the spaced-out acoustic mantras of "
Shiroi Inochi
" and the instrumental "
The Street The Fairy Goes
" surprisingly reminiscent of the smeared, slow-motion psychedelics of 
Opal
's early EPs. The latter, a weightless blur, hovers in theair on dreamy drifts of DX-7, drifting melodies landing on the track like an astral traveller, lost and delirious.
"Lunatic Pearl" itself is a monster, one of Shizuka'smost rock-reverent moments, its bold riff soaring over a rhythm section that thuds menacingly, as though they're the kings of the rumbling spires. "
Signs
", another track from the Studio EUN session, features some gloriously unhinged playing from 
Miura
, as though he's tearing the song's seams apart, as the group push Shizuka's simple, perfect song into the stratosphere. Brief yet perfectly formed, Lunatic Pearl is another gorgeous entry in the Shizuka discography.
---
You might also like