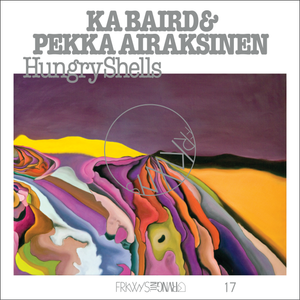 Rvng Intl.
Ka Baird & Pekka Airaksinen - Hungry Shells LP
Regular price
€21.99
€0.00
Hungry Shells, the seventeenth entry in RVNG Intl.'s intergenerational collaborations series FRKWYS, brings together vocalist,multi-instrumentalist, and sound artist Ka Baird with avant-garde composer and radical performance art pioneer Pekka Airaksinen. Recorded six months before Pekka's passing, Hungry Shells alchemizes separate but similar spiritualistic practices, canvassing Baird's voice and synthesizer rituals and Airaksinen's lysergic sound explorations into startling, surreal landscapes.
Pekka Airaksinen, who left this realm for another in May 2019, is recognized as a pioneering composer both in and outside his native Finland's fringe art community. A founding member of the late 60s art and music collective The Sperm, Airaksinen discovered Buddhism in the early 1970s, eventually establishing a number of meditation centers around Finland. Throughout his career Airaksinen embraced a degree of obscurity and anonymity that was inspired by his Buddhist learnings, and afforded him complete creative freedom. As he explained, "The less success you have, the more time there is to develop things."
Ka Baird, who found her musical footing in Chicago playing in Spires That In The Sunset Rise before moving to New York to pursue her solo career, has developed a practice based in forms of active and engaged embodiment. Inspired by Charlemagne Palestine's Body Music, Baird's performances explore physical extremes as a catalyst for charged immediacy and presence. "I'm interested in the places between precision and something unrestrained," she told The Wire in 2019. Drawing on minimalism's ecstatic deployment of duration and endurance, her recordings explore the outer limit sounds of her voice and its synthesis with developing music technology.
Airaksinen and Baird convened in Utrecht in the fall of 2018 to write, rehearse, and record Hungry Shells ahead of a performance at the Dutch festival institution Le Guess Who? Sessions took place between contemplative walks along the city's medieval canals, and, for Airaksinen, lengthy meditations in his hotel room. Early on in the trip, Pekka shared ODO with Ka, a collection of Buddhist parables that he divinely received while meditating. After translating several of these texts from Finnish to English the duo used them as text for the album, and a sort of psychic foundation.
On Hungry Shells, Airaksinen and Baird embrace the creative potential within ritualistic or meditative states. Manifesting as stylistic touchstones from both artists' oeuvre and, ultimately, an innovative discourse, the artists' voices thread like a golden, mystical rope throughout the album. This merging of musical voices creates the character of this collaboration: a limitless form without ego, dismantling our frame of reality to reveal a portrait of true peace. Hungry Shells adds one last, unique hue to Airaksinen's spectral, unconventional fifty year discography, and sets a stage for Baird to preserve her mentor and collaborator's legacy and promote the concept that transformation truly defies time.
Ka Baird and Pekka Airaksinen's Hungry Shells, FRKWYS Vol. 17, will be released in vinyl and digital editions on October 22, 2021. Mastered by Rashad Becker, the album features an artist essay from Baird, and poetry and cover artwork from Airaksinen. On behalf of Ka and Pekka's estate, a portion of the proceeds from this release will benefit Nepal Art House, a non-profit art school that provides free art and cultural education to Nepalese children who have limited resources and opportunities.
---
You might also like