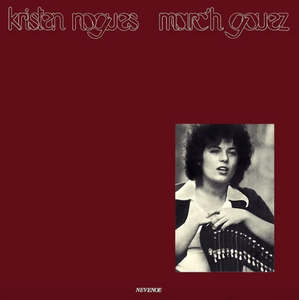 Souffle Continue
Kristen Noguès - Marc'h Gouez LP
Regular price
€24.99
€0.00
'"Why would I sing in French? I have Breton culture, I speak Breton, I live in Brittany, and the Breton language is the language of this country..." So explained Kristen Noguès, of whom this is the first of the (rare) albums that she recorded Marc'h Gouez, is a fabulous voyage in space on each listening.
Noguès learned the Breton language as a child, at the same time as the Celtic harp, – taking lessons with Denise Mégevand, who would go on to teach others, notably Alan Stivell. At the beginning of the 1970s, she discovered the Breton song tradition (soniou and gwerziou) through Yann Poëns and became involved in Névénoé, a cooperative of traditional expression founded by Gérard Delahaye and Patrick Ewen. It was under this label that her first album Marc'h Gouez, was released in 1976.
With a dozen friends playing guitar, piano, violins, flutes..., Noguès composed not Breton music, but music from Brittany: a type of shared folklore in which imagination is married to the reality of the moment, that of social demands and companionship. At the very beginning of the record, we can hear her drawing up a chair, before the plucked notes of the harp become a cascade: "Enez Rouz", is an invitation to listen up close.
We are reminded here of the Meredith Monk of "Greensleeves", there of the early albums of Brigitte Fontaine / Areski, elsewhere of Emmanuelle Parrenin, Pascal Comelade... Noguès rhyming pattern is ever changing: airy ("Hunvre"), cosmopolitain ("Pinvidik Eo Va C'hemener"), enigmatic ("Ar Bugel Koar"), profound ("Ar Gemenerez") or enchanting ("Hirness An Devezhiou"). And then there is the track from which the album takes its' name: Marc'h Gouez which, between nursery rhyme and chamber music, weaves a fabulous web in which the auditor is obliged to be caught. "Brittany equals poetry": so said André... Breton; and Kristen Noguès proves it to be true.'
Carefully remastered from the master tapes by Gilles Laujol.
Graphic design by Stefan Thanneur.
8 page booklet.
Heavyweight 180 gr. LP.
425 gsm brownboard outer sleeve.
Licensed from Katell Branellec.
---
You might also like