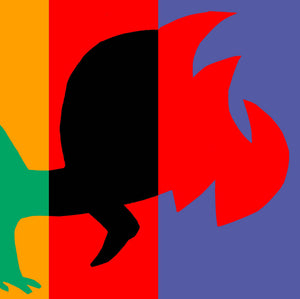 Holuzam
Brace - Quaternity CD
Regular price
€15.99
€0.00
Everything surrounding Brace looks simple and clear. The name,
Brace
, five letters, one syllable. The title of their debut album, "Quaternity", refers to the four pieces in it. Even the straightforwardness of the song-titles leaves no room for doubt. The Bristol duo featuring
Ollie Moore
(reeds/keyboards) and
Aidan Searle
(drums/percussion) know what it is doing: plain free jazz born of instant composition.
Moore has been around for a while, an active player of the Bristol post-punk scene as a founding member of Pigbag and has collaborated with Au Pairs, Head, Red Snapper and Craig Davies, among others. Searle's interest in performing has resurfaced in the last decade, playing drums in bands such as
Hi Fiction Science, HEXIT
(with Ollie Moore),
Dominions of Glue
and
Omega Institute
. The two have started to collaborate a few years ago and have made a name for themselves in the Bristol/London improvisation scene with sessions at Sounds On The Corner, Domestic Sound Cupboard, Skronk and Flim Flam.
"Reaction-Formation" opens as it should: an introduction to the Brace domain. The phrases are open, Searle's drums feel fresh and are relaxed in a very particular groovy way. It creates room
 

for Ollie's saxophone to breathe and to flow in the direction it desires. Both know where they're going with no one in command. It is symbiotic and it sounds like that.

That's the beauty of "Quaternity". Even when Brace approaches something explosive, like in "Serene Intent", the duo avoids the obvious and prefer a more self-contained language. That creates room to perfect this sensation of music as a constant stream and not a series of ups and downs. It is both rational and natural and by the end of "Nod To Don", these 71 minutes will feel like a breeze.
Ollie Moore: tenor and baritone, saxophone, bass clarinet, keyboards, percussions
Aidan Searle: drums and percussions
---
You might also like