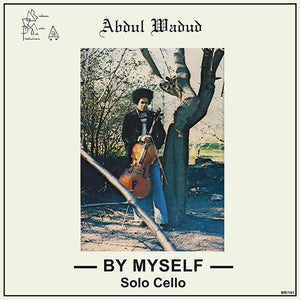 Gotta Groove Records
Abdul Wadud - By Myself LP
Regular price
€39.99
€0.00
This long out-of-print holy grail private press album, originally released by the late Abdul Wadud himself in 1977, is finally being reissued on vinyl.  This reissue was originally sanctioned by Abdul himself.  Unfortunately, he passed away on August 10, 2022.  We thank his family, and particularly his son, Raheem DeVaughn, in assisting us see this masterpiece through to become available on vinyl to a new generation.
There really is no easily comparable album in existence. Abdul Wadud used the cello to make music in a way that was never foresought for the instrument, and this album was the first physical representation of his solo genius.
Sourced from the only copy of the original master tapes in existence.  However, due to the severe deterioration of some sections of the tape, the vinyl master lacquers were cut from a DSD transfer of the audio tape.  The tape restoration and DSD transfer were conducted by Grammy-award winning mastering engineer Paul Blakemore.  Lacquers were cut by Clint Holley and Dave Polster at Well Made Music.
---
You might also like