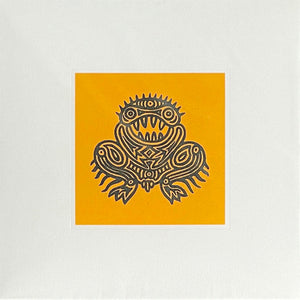 Holidays Records
Pygmy Unit ‎– Signals From Earth LP
Regular price
€24.99
€0.00
Deluxe edition with two booklets, perfect replica of the original.

Joining their rapidly growing catalog of radical gestures of creative sound, Holidays Records returns with one of their most important releases to date, the first ever vinyl reissue of Pygmy Unit's "Signals From Earth", a towering private press obscurity, originally released by the band in 1974.

Blending Native American references into a body of sonority that draws on free improvisation, experimental electronic music, and Spiritual Jazz, it forges a singular and almost entirely unknown path, and stands almost entirely on its own in the history of west coast American jazz. 
A holy grail for a handful and an inevitable revelation for most, Holidays has truly upped the game with this masterstroke. First appearing on the San Francisco scene sometime during the early 1970s, almost nothing is know about the Pygmy Unit, a seven piece band that have been steered by Darrel De Vore, who contributed flute, bass, percussion, piano, and vocals to the band's lone LP, had first appeared with its percussionist, Terry Wilson, within the psychedelic outfit, The Charlatans, who belonged to the legendary Family Dog scene. While undeniably jazz - riding a remarkable line between avant-garde electronic music, Spiritual Jazz, and free improvisation - the band was very much a product of the diverse creative ferment that developed in their hometown of San Francisco during the 1960s. Jim Pepper, a Native American tenor saxophonist who cut his teeth as a member of the Mal Waldron Quartet, played with Charlie Haden, Don Cherry, and numerous others, and produced the cult favourite, "Pepper's Pow Wow", for Embryo Records in 1971. John Celona, who contributes parts on sax, synthesizer, and percussion, would later go on to be regarded as an electronic composer of some note. Of the remaining members, saxophonist Frank Albright, bassoonist Ron Grunn, and percussionist Marvin Kirkland, very little else in know. It seems this LP is more or less all they recorded.

As far as rare, private-issue jazz holy grails go - prices for the original pressing can climb as far as $1000 - Pygmy Unit's "Signals From Earth" - doubles into the realms of obscure, mind-bending revelation and as sought after as they come, like few others. It's a stunning piece of work that rests almost entirely outside of expected connections and streams for a record of this sort, appearing out of nowhere at the time of its release in 1974, before drifting - like those that made it - out of consciousness, until it was discovered by a small handful of dedicated diggers somewhere decades down the road. Embodying the raw spirit of DIY, the ensemble channels references - via passages of chanting and percussion, as well as conceptual underpinnings - from Jim Pepper's Native American roots, intuiting them with the soulfulness of spiritual jazz, wild moments of avant-gardism centred around synths and electronic effects, and explosions of wild free improvisation.

Perhaps most fascinating are the ideas that rumble below this album - falling far closer to experimental music than the traditional expectations of jazz - described in its liner notes by the band: "Development of new music is a continuous path that grows directionally according to psychoacoustical phenomena available for unifications. This record is evidence of that development, containing 12 performance pieces, at 12 separate times in different acoustical spaces with various combinations of musicians and instrumentation. The music is shaped by signals, received and sent by life forms on this planet. It is unwritten, unrehearsed, utilizing new and traditional approaches to energy, motion, and form. Eventually, music develops as a natural extension of the environment in which it exists. It is the aim of the traditions… to signal the universe from the earth."

A truly visionary body of work by an almost entirely unknown band, excavated and resized by Holidays Records on vinyl for the very first time.
---
You might also like