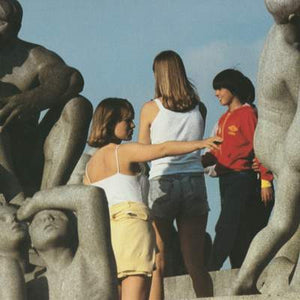 Quirlschlängle
Brannten Schnüre - Das Glück Vermeiden LP
Regular price
€27.99
€0.00
Five years on from the recordings to their last album "Erinnerungen An Gesichter" Brannten Schnüre continue their conceptual work with a new lp, "Das Glück Vermeiden". quite contrary to the incantations of reminiscence its predecessor wielded so carefully, this one's all about wanting to forget, a therapeutic process of coming to terms with the fever dreams and ghost stories of the past. But there's much more to this record than just being the flipside to that familiar coin. Christian Schoppik's lyrics always had an immediate and almost talismanic quality - here we find them in the midst of an emotional turmoil, meandering through vulnerable and catastrophising episodes, yet still more often than not spotted with a strange, whimsical smile.

This mélange of sentiments grows into the music too, with a tapestry of sound that is furrowed with the pressure of jackhammers, the squealing of tyres, passing ambulance sirens, but also birdsong and inklings of melodies, peeling off layer after layer of familiarity like crumbling plaster on the walls of a long unoccupied room. And again, it is Katie Rich's childlike voice, never sarcastic but always enlightening, that navigates us through all that confusion. building on this visionary language they first hinted at on "Erinnerungen.", melting sparse acoustic instrumentation with a serpentine library of obscure and forgotten sound sources, it feels as if Brannten Schnüre have now come into their own, giving away their handwriting like never before.

They quite literally create loops of yearning, loops that become loopholes, finding fissures in the gauze of reality. to all of us who are meant "to do without happiness" forever, this is the threshold to a place where we can breathe in peace. coinciding with the release of Novy Svet's archival "Desde Infiernos De Flores" recordings, Brannten Schhnüre's penultimate album also pays homage to this long-time key inspiration and idol.
---
You might also like