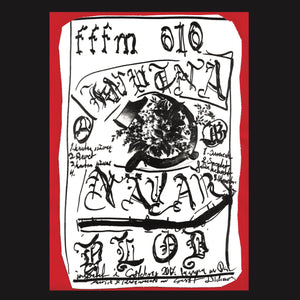 Aguirre
Blod - Knutna Nävar LP
Regular price
€22.99
€0.00
Edition of 500 includes insert & large poster.
Swedish progg is not to be confused with "prog" as in progressive rock music. When we are talking about progg, we are refering to the Swedish music movement influenced by the political climate of the late 60's, to some extent the hippie movement and in many cases also Swedish folk music. Music highly driven by an political agenda. Blod's Knutna Nävar, originally released in an edition of 150 copies on Förlag För Fri Musik in 2018 and later a small cassette run, is pretty much a lost progg classic from the 70's. This is not a case of copying a certain sound though, far from it, neither are ideas really rehashed nor does the album feel nostalgic in that sense. Rather it feels like if someone has read about the progg movement and all the records but never actually heard it, yet decided to do an album and somehow managed to succeed big time. 
Further developing the sound palette and ambience initiated with parts of the Leendet Från Helvetet recording, the music feels slightly louder and more in your face. It's like it's more of everything. The melodies are immediate and it's quite impossible to resist the brash catchiness of it all. Albeit mentioning progg music and it's importance for this recording, the actual musical side of Knutna Nävar has in reality more in common with soundtrack/library music and Swedish composers like the late Björn Isfält when you attempt to break it down. The crude DIY approach and anything-goes mentality just adds an extra dimension to it all and ultimately places the music somewhere else. There's a rather blunt use of samples throughout the record (sources probably best to leave out, though you don't have to be a Einstein to figure these out), but then again this is made by the same guy that gave the world the ABBA album. Those samples have managed to become an integral part of the music through the few years that has passed and though well familiar with the records those snippets are now to me genuinely Blod and nothing else. 
It seems like everyone has their own favourite but Knutna Nävar is the Blod album I have returned to the most. It has that extra something that sets it apart and if I would have to pick up a few records that sums up why Gothenburg has been a pretty damn awesome place to be in the last 10 years or so, this would definitely be one of the top picks. 

Text by Matthias Andersson


---
You might also like