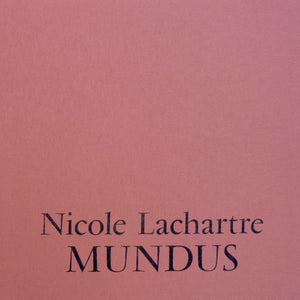 Metaphon
Nicole Lachartre - Mundus 3xLP
Regular price
€59.00
€0.00
3xLP sleeve second edition, 12 page booklet with track info and text by Vincent De Roguin and Mark Harwood, notes by Lachartre and a rare portrait photo from 1969. Edition of 300 copies

First ever release of female French composer, musicologist and writer Nicole Lachartre (1934-1991). This 3LP set comprises most of her electronic and concrete music compositions recorded in the 60's and 70's, all previously unreleased. Lachartre had a classical formation, studied with a.o. Darius Milhaud, Iannis Xenakis and Michel Philippot.

Her broad formation and interest as well as her profound commitment and singular vision created a solitary voice even within the field of electronic and concrete music, strangely enough unheard till this day. Her first tape composition from 1968 was recorded in Pierre Henry's Apsome studio and most of her other electronic and electro-acoustic compositions included in this box set were recorded at the IPEM in Ghent.

Production: Timo van Luijk
Text: Vincent De Roguin and Mark Harwood
Mastering: EARLabs
Design: Meeuw
---
You might also like