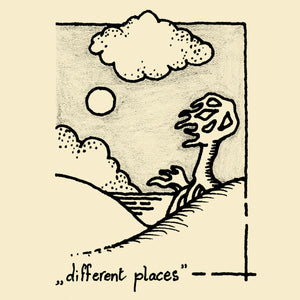 Dead Mind Records
Enno Velthuys - Different Places LP
Regular price
€21.99
€0.00
Different Places was Enno Velthuys' last work before he disappeared into obscurity. By this time, he became disillusioned by the cassette network and his mental condition sadly deteriorated. With Hessel Veldman, label owner of EXART, getting more interested in experimental music, they were both moving into different places and eventually lost contact.

Willem de Ridder and Enno stayed in close contact. Enno composed background music for some of his radio shows. Willem would release some of these recordings through his own label, Radio Art Foundation. For the limited version of this LP 4 cassette covers, drawn by Peter Pontiac, are added as additional prints.

Enno was a perfectionist, always looking for better equipment. When listening to the original master tape of Different Places it turned out it had a real nice, clean sound. Definitely an improvement over some of his earlier material. While mastering these songs for vinyl in 2021 we tried to stay as close as possible to Enno's original intentions. Different Places is probably his most coherent work and includes some magical chord progressions. Shades of Erik Satie and Hiroshi Yoshimura mixed with immersive, spacious, cosmic ambient. Melancholic but less claustrophobic when compared to predecessors Glimpse of Light or Landscapes in Thin Air.

While the LP was in production, we were contacted by someone who just bought a framed 1967 drawing from a thrift store, made by Enno. In the 60's he was playing guitar for various bands and although his father was a famous illustrator of children's books nobody knew he was also doing these large drawings back then. We are very pleased that we were able to add this amazing piece of art to this publication as an insert. 


---
You might also like